About Us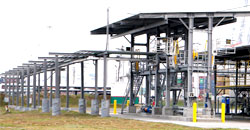 USA Mechanical Contractors, Inc.
Savannah Southern Mechanical Contractors, LLC
Jasper Industrial Contractor, LLC
SL Abercrombie Properties, LLC
US Mechanical Contractors, LLC and related companies strive to be the best in safety, environmental, value, quality, craftsmanship, response, schedule, and performance. We use the above attributes to be the best. We are not a discounted contractor who will sacrifice any attribute for revenue. We exceed any pre-qualifications for EMRs, OSHA recordable rate, safety orientation & training, insurance, bonding, drug free workplace and prevailing wages.
Thank you for this opportunity to introduce U.S. Mechanical Contractors, LLC!
We are a construction company serving heavy industrial and commercial customers in and around the Savannah, Georgia area.  Since our inception in 1988, we have grown serving clients in petro-chemicals, pulp and paper, transportation, wood products, and related heavy industry. 
Our main focus is industrial piping system fabrication and installation.  We are best described as a mechanical contracting company that provides periphery services in support of mechanical work.  Our experiences include concrete foundations, steel fabrication and installation, equipment installation, metal building supply and erection, fall protection and plumbing.
The strength of our company is found in our KEY PERSONNEL – management team, superintendents, and foreman of mechanical, civil, and plant maintenance backgrounds.
Our key personnel have years of experience in each of these areas.  Each of our managers have specialized backgrounds and the leadership team is diversified.  It is this diversification that enables us to succeed in many areas of construction.
Our success is the result of our ability to establish and sustain long-term client relationships.  These relationships are nurtured because we simply outperform other contractors.  Our performance is due in part to our company values:
Values
Safety, Health and Environmental
Safety, Health and Environmental concerns come first – Valuing the SH&E of our customers, employees, and subcontractors.
We are responsible and are held accountable for our actions.
Employees have orientation and recurrent SH&E training.
Hazards are identified in safety huddles held daily/before each job.
U.S. Mechanical Contractors LLC is a Drug-Free Workplace.
We have a SH&E Policy Manual that is reviewed with and distributed to each employee.  Site SH&E Policies are established when necessary.
We perform Job Safety Analysts and Project Safety Audits.
Treat customers and each other with respect.
Honesty and integrity.
Work with clients to establish project schedules and durations.
Assign appropriate personnel and equipment to perform the task at hand.
Performing work the first time to meet or exceed specifications.
Inspection of materials and practices.
Certifications such as ASME Section IX Welders.
System testing (hydrostatic tests, x-ray welds, etc.)
Calibration of equipment and record retention.
Job Quality inspection documentation
Key Business Maintenance Contracts and Service Agreements
Georgia Ports Authority Annual Plumbing Contract, Garden City over 7 years
NuStar Energy Services Agreement, Savannah, Brunswick, and Jacksonville over 4 years
Vopak Maintenance Services Agreement over 20 years
Our Clients